Oasis Lighten Up Tees
Ready to Lighten Up and Get Your Tee On?
You asked for them, and they're here! The Oasis tees are a soothing reminder for your hands and your heart to Lighten Up and Feel the Stillness Within.
These soft, cotton tees come in two cuts, Women's and Unisex, for a comfortable, flattering fit that lets you work and relax in style. Because sustainability is important to Oasis, our tees are either 100% organic cotton, or an eco-cotton combination. Now you can feel great and look great too.
Each tee has the Lighten Up sunburst with the words The Healing Power of a Gentle Touch at the base of the sunburst, and the Oasis logo on the right sleeve.
To help you decide which tee is best for you, check out this quick video to see what these fun tees look like on actual people, not supermodels:
OK, so professional actors we're not, but we all love these nifty tee shirts!
To get an idea of sizing, in the video, Sarah is wearing a Women's small, and I've got a Women's medium on. Ranald has on a medium in the Unisex Tee, and Tanya is wearing the Unisex in large. I'd recommend ordering a size up if you're torn between two sizes.
Here's the rest of the scoop:
Women's Lighten Up Tee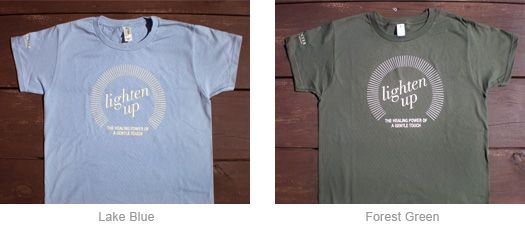 Let your spirit lighten up in this relaxed fit Women's Tee
Pre-shrunk, 100% Certified Organic Cotton
Double-needle stitching on the sleeve and bottom hem
Relaxed ladies silhouette features shorter sleeves, higher hemline, and slimmer fit
Women's Lighten Up Tee
Unisex Lighten Up Tees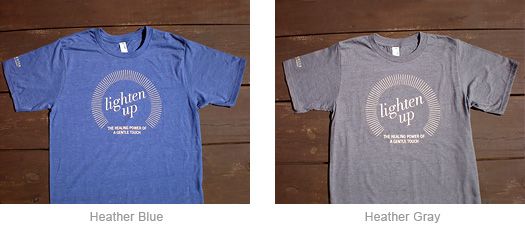 If you have any questions about sizing or anything else, please drop us a line. We'll get back to you within 24 hours. We currently ship only in the U.S., and all orders will be shipped within one business day of ordering. Thank you for your order!